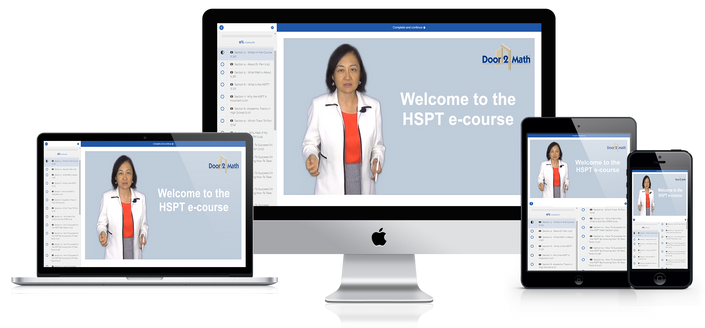 Help Your Child Succeed on the Math Section of the High School Placement Test (HSPT)
All the essentials to get on the right academic track in a Catholic High School
Help your child master the HSPT test so that they get into their top choice Catholic High School and put them on the path to their dream college
Avoid making the common mistakes most parents make when enrolling your child in Catholic high schools.
Dear Parent:
Have you dedicated yourself to your child's education but not sure what it takes to succeed in a Catholic High School? And concerned that your child will do poorly on the HSPT and not get in?
Well, here's a secret...what most parents don't realize, is that it's not getting in that is the challenging part, it's getting placed on the right track once your child does get in.
If you want to get the most out of your child's Catholic High School education and set them up for success in college and beyond, then you need to know how to best prepare your child for the HSPT and how Catholic High Schools place their students in the right (and wrong..) academic tracks once they're in.
Here's what they don't tell you…
As the public education system goes down in quality every year, more parents, including yourself are looking for alternatives for a safe, wholesome and high quality education experience for their children. Catholic High Schools are near the top of the list for these needs and the HSPT test is the standardized test that most Catholic High Schools use for admission and placement.
Know What's Important
In the 21st century, a quality education can vastly improve your child's quality of life once they're on their own. This goes for the values they hold, the skills they possess and the decisions they're capable of making. In this respect, it's a critical juncture when your child gets to 7th and 8th grade. All at once, kids are encountered with:
Adolescence
New math concepts
Anxiety over attending a much larger high school
I'm not trying to solve all these problems, but here's some crucial topics to consider when it comes to academics and especially math.
Abstract math concepts are introduced in 7th grade. Many kids get lost.

Word problems become more complex at this age also. This causes problems for kids.

Math foundation holes from 2nd to 6th grade start to make a real impact in 6th grade.

The HSPT is the first in a series of important standardized tests (PSAT, SAT, AP) that your child will need to master.

Test taking is a separate skill from knowing the math.

Grades start to count for college admission starting in 9th grade.

Without parent or teacher intervention, counselors will only take 2-3 minutes to decide which track to place kids in high school. This has a large impact on a child's academic career.
Laying the Foundation
Imagine a program that gives you all the information you need to pave the path to success in a Catholic High School for your child starting with the HSPT exam.. And then build on the skills learned to get a leg up in high school.
You will finish the course with new insights, new skills for your child and a plan for success.
This is not about an overnight miracle, but a set of proven methods to accelerate your child's math competency and test taking skills so that they can succeed on the HSPT and Catholic High School academics. Imagine, four years from now, top choice colleges reaching out to your child and more importantly giving them the confidence of knowing they have the tools to succeed in math.
It doesn't matter that your child is not where you want them to be when it comes to being prepared for the HSPT
Take a moment and imagine two to three years in the future. What successes would you want for your child in Catholic High School?
Then imagine if you do step in right now.. what would that look like?
It doesn't really matter how your child has been relating to math up until now. Everything changes once you decide to take action and help your child to gain the confidence so that they can succeed on the HSPT. Everything changes once you align your personal strengths with a specific plan to move your child forward.
Here's how and why I can help your child succeed in Catholic High School by doing well on the HSPT Math Section…
Hi, I'm Dr. Feenix Pan, a math coach, scientist, YouTube Creator and most of all, Guardian of Dreams. Here's a bit about my background that can serve to help your child.
Over two decades, I've gone from an engineer at Hewlett Packard to a PhD Scientist at the University of Arizona to a top level math coach for hundreds of kids. When a student is struggling in math or needs to boost their performance for selective college admission, I get the call.


Started a YouTube channel in 2011 and was one of the first math instructors on YouTube. To date, my 1000+ videos have generated over 6 million views.


My career is about solving "unsolvable" problems when it comes to kids and math comprehension. A solid math foundation is a natural by-product of understanding the math building blocks, acquiring the right study and homework habits and knowing how to take tests. Any student can perform at the top of their game if they have the right tools.


Insights learned are that harder work and undirected math instruction is not what students need to succeed in math and especially standardized tests.
What really matters is that the parent is the guide in a child's math education and garners the right resources at the right time. This course helps the parent to be that guide and as a result to help their child to succeed on the HSPT and set up the right academic foundation in Catholic High School. I want to be your coach as you guide your child through the academic system.
Introducing the HSPT Math Success Course
As a parent you want the best for your child in high school when it comes to academics. That is why I created this course. I've mentored hundreds of students and their parents when it comes to all stages of math in school. Today, these students have mastered their math courses, gained confidence, gone on to their first choice high schools, first choice colleges and a few of the older students have gone on to their dream careers partially as a result of their work with me.
Both the students and the parents worked hard. In fact, they'd been working hard long before I ever met them. The difference is that they have learned how to work with a purpose… with what I call "smart shortcuts!"
This course is for both you, the parents, and the students that have not found the formula yet to turn hard work into math understanding and test scores to reflect that understanding. This course is separated into two sections: one for the parent and one for the student.
Once you learn about what's holding your child back and help to maximize their unique strengths, you will set them on a path to academic success in Catholic High School and beyond.
The Skills and Knowledge You Need As a Parent to Set Up Your Child for Academic Success
Numerous parents just like you have benefited from the Door-2-Math approach. Their kids have gone through my programs and have gotten results..The programs have helped parents build scholars that have gone on to prestigious Ivy League schools. These techniques work for kids who already "get" math as well as those for whom math is a challenge at first. The process is proven…
Techniques for HSPT Math Success..
With this course,
You'll learn the real reason the HSPT test is important, hint.. It's not about admission.

You'll learn that one of the biggest decisions regarding which college your child will attend is made by a counselor in the 8th grade.

You'll identify which sequence of math classes in high school is the right one for your child.

You'll get the tools to help your child get into the right sequence.

Your child will have the resources and the routine to prepare for the HSPT math section.

You'll be able to spot if your child has math foundation problems.

You'll know how to teach test taking skills to your child.

Your child will have a simple method to solve the word problems on the HSPT.

AND

You the parent will have the tools to protect and nurture your child's dreams.
When you know the right steps to take when it comes to your child's academics, you're protecting their future, their dreams and their unique talents. When you do it within the framework of your natural strengths which don't have to be in math, you find that it's a natural process. That means you'll set your child on the path to academic success while lowering your levels of stress.
In case you're still on the fence, consider two more reasons why this program can do what it promises:
I struggled in math myself, so I know what it feels like.
I'm a mother myself and know the joys of watching my kids do well as a result of working hard and smart.
It's a great joy when parents share their kids success. I can't wait to see you become the hero guiding your child to academic success.
What You Will Gain…
You will have the tools to help your child succeed in math even if you yourself struggled in math.

The joy of watching your child's academic hard work come to fruition.

Knowing that your child has a leg up when it comes to high school and college.

You'll discover proven methods to free up your child's non-productive study and instead invest it in areas that matter.
So Here's the Bottom Line with the High School Placement Test Math Success Course
The course is delivered in two sections.
Section one is for you the parent and section two is the HSPT math test review for your child. It's delivered online and you and your child can go at your own pace.
The parent section of the course uncovers the true importance of the HSPT test, how it affects your child's high school academics and how that in turn impacts your child's college choices. In addition, we'll help you identify your child's strengths and weaknesses as it comes to math.
The second section is a full review of the HSPT math section where I work out and explain each problem.
Having taught in person, one on one, in small groups, in university and college settings, and online in many other situations, this course is carefully designed to provide the most impact to you, the parent, and your child as effectively as possible without wasting time. When the exact same material is taught to my students and the parents, the total often exceeds five figures! But I'm not going to charge you anywhere near that much…
You can save hundreds by acting now …
This is a new course, so lots of work is still needed to iron out the kinks. What this means to you is amazing savings and much more personal attention from me, but the offer will expire. Through the end of 2019, I'm offering the course at a tremendous discount. Here's what comes in the course:
Section 1 - For You the Parent:
Why math and what it's really about: It's not about memorizing formulas, it's about critical thinking.

What happens when your child applies to Catholic High School: placement is much more important than admission.

What role does the HSPT test play: It's the most important factor, but there are two other factors.

The details about placement in Catholic High School: The "college prep" track is actually the worst track for your child if they want to go to college.

What is the goal for top level math class in Catholic High School: Even though Calculus sounds scary, it's entirely doable.

What are foundation holes: Your child may be carrying a ticking math time bomb since the fifth grade and may not even know it.

Why word problems are so important: hint, it's where most kids are left behind

Why it's important to learn how to take tests: It's not the same skills are learning math

The best schedule to prepare for the HSPT.
Section 2 - For your child:
A complete HSPT math section worked out. 64 problems total, two hours of video.
Your child will see that I don't just solve each problem but actually explain to your child how to solve it in words they can understand. This is from thousands of hours of sitting with kids and explaining math concepts to them their way and figuring out what questions they have when they don't know how to ask them.
Special 2019 Offer (Save $500)
The entire course is now available online 24/7 on a special members only site.
In addition, we recommend you join our Private Facebook group and attend our monthly web conference calls.
Each call will begin with a short topic, followed by ample time to ask questions, share insights and accomplishments and learn from other parents on their own journey.
I'm taking all the risk by offering you an unconditional 30 day money back guarantee. So if you find out it's not a good fit, I will gladly refund your money in full. I'll only ask for you to provide a reason that I can further refine this program.
When you do complete this course, I'll be asking for you to provide feedback as well as a testimonial on the value for you.
30-Day Money Back Guarantee
If the HSPT Math Success Course doesn't show you how to help your child on their math placement.. If it doesn't educate me on what's important and what's not when it comes to Catholic High School admission and placement.. Or if it fails to give my child a leg up on the HSPT math section and high school math after that..then I understand that I will receive a full refund.
This course delivers:
The Section 1 guide for you the parent so that you can be the hero and give your child a leg up on the HSPT math section.

The Section 2 study guide for your child so that they can really understand what each math problem is really about and know how to solve similar problems when the time comes for the real HSPT.

Private Facebook Group for sharing your questions and learning from other parents whose kids are ready to enroll in a Catholic High School.

Additional conference calls to answer your questions about the HSPT and math education in general.

Additional bonus videos and insights available on the member site throughout the year.
Considering the cost of tuition, you're protecting your $50,000+ investment in a Catholic High School education for only $245.
As you can see, with our 30 day money back guarantee, all the risk is on us.
Reserve Your Spot Right Now…
So if you're ready, go ahead and click the registration link and you'll be on your way to giving your child a head start on the HSPT and Catholic High School math sequence.
Who this program is not for?
If you're looking for a quick magic wand, you will not find it here!!
This program specifically is for pro-active parents who don't want to leave their investment in their child's Catholic High School education to chance.
This program is for parents and students who are committed to a quality education. Change is not easy. Your child will not see a major change for several weeks, but by applying the knowledge in this course major improvements in the HSPT math test scores and academic outcomes in high school are possible.
If you and your child are committed to making the most out of Catholic High School education and receiving the highest score possible on the HSPT math section, this course will empower you to get started with a purpose and a specific plan.
If you're looking for a magic wand, you will not find it here, but you will find a best odds path to HSPT success!
To your child's success,
Feenix Pan, PhD
P.S. - Every day you wait is a missed opportunity for you to guide and your child to learn and practice.
Frequently Asked Questions
Q: I'm not good in math myself, will this course still be useful?
A: Yes! There's so much that a parent can do to further their child's math confidence without knowing math. I go over many of these methods in the course.
Q: My child is already getting As and Bs in math. Should I still work with my child to prepare for the HSPT?
A: Maybe not, but it's taking a big chance. Many schools give As and Bs no matter what and the test is standardized, so it's better to be over prepared than find out when it's too late.
Q: Can I just give the videos to my child to prepare?
A: No. The parent is the guide and guardian and has many ways to contribute that the child can't on their own.
Q: I can find worked out math problems on YouTube. Why should I spend money on your course?
A: YouTube is a great place to start but moms came to me and asked me to make this because the information is often fragmented and contradictory and the instruction is not relevant to the HSPT.
Q: Doesn't the school prepare my child for the HSPT?
A: Some do, some don't and also not at this level of thoroughness.
Q: Should I hire a tutor?
A: Maybe. In the course I give criteria when it's a good idea to hire a tutor.
Q: Is this stuff on Khan Academy?
A: Not the specific problems on the HSPT and not the section for parents.
Developed especially for the parents who..
Don't leave matters to chance when it comes to their kids' education.
Are committed to preserving their kids' dreams.
Are not satisfied with schools being the ultimate manager of their kids' education.
Are proactive.
There's no better time to get started..
Here are testimonials from parents just like you who got results for their kids:
"[Dr. Pan] worked with my 5th grader who was struggling with many of her math facts. Feenix's methods of positive reinforcement and repetition have my daughter now excited about trying to figure out math problems.
Dare we call Feenix the Math whisperer? BIG thank you to your skills, kindness and confidence boosting Feenix!!!"
"Kaitlyn is doing very well. Working with [Dr. Pan] really did change her life. She gained faith in herself that she could do math and science."
-Kathleen P., Patient Advocate

"Our child is about midway through Dr. Pan's program and has made significant progress. He is now toward the top thanks to Dr. Pan's unique teaching style and dedication. "
-R.H. DDS,

"Dr. Pan, we cannot begin to tell you how excited we are that you are working with our daughter. While all children are unique, Amanda is a truly unique learner. It is very difficult to find people who understand her learning style. Amanda connected with you right away. You were respectful and did not treat her as ignorant because of her difficulty in math. Amanda gets very offended (we all do but it is magnified for Amanda) by people who treat her as ignorant. She absolutely loves you and believes that you will help her overcome her math difficulties."
-Toni E., teacher and mother of a 5th grader

"I highly recommend Dr. Pan. She is a great motivator and math fear conqueror, helping her student reach their full potential. She is also an excellent parent communicator. She would be an excellent ally in any child's math education. She has certainly helped shape my child 's future."
-G. Hou, M.D.

"Dr. Pan, I got an A on my math test yesterday. And I was the only one who got an A in my math class! "
-M. A., 6th grader

"Emily came home yesterday with a 100% on her first math test and was ecstatic! It was an extra bonus that yesterday was her birthday."
-Ann C., Ph.D., Dean of Math and Science and mother of a 5th grader

"Dr. Pan, this was definitely the easier way to do math!"
- Emily F.,

"Dr. Pan's coaching sessions are extremely helpful!"
- Diego L.,

"I've never seen math this way before. Now it all make sense, Dr. Pan!"
-Dallas W., 6th grader

"I wish someone could have shown me how to solve this problem this way before. Now I get it!"
- Cristina S.,

"I've never learned so much math and still have so much fun!"
- Emily C., 4th grader

" Of all the opportunities that we had to bring positive influences into our daughter's life, Dr. Pan ranks at the top."